Vintage Modern Luxe Apartment
Tour This Vintage Accessory Collector's Cozy Condo!
Before…
Decor inspiration
Most of the pieces in this home are antiques, travel finds and family heirlooms. I wanted to honor Brent's love of history and vintage so I created a blank canvas for his pieces. The modern clean foundation of his walls really helped to balance all the ornate and warm vintage pieces.
Small space tips
Although this condo was limited with square footage it was not limited with style and functionality. The layout of the sofa against the bay windows helped keep the center of the main living open. The lack of curtains brings our eyes outdoors as soon we step foot inside. The lighting in the main living really helped to bring the eye up giving the illusion of large ceilings. The walls in the main living were gray and beige which broke up the spaces and promoted a feeling of separated spaces. We painted the walls flat white (flat paint is great for small spaces because it absorbs light making it feel more soft and open) and continued the same white throughout the hallways and kitchen. The white continued walls makes the hallway, main living and kitchen feel like one big room.
Living Room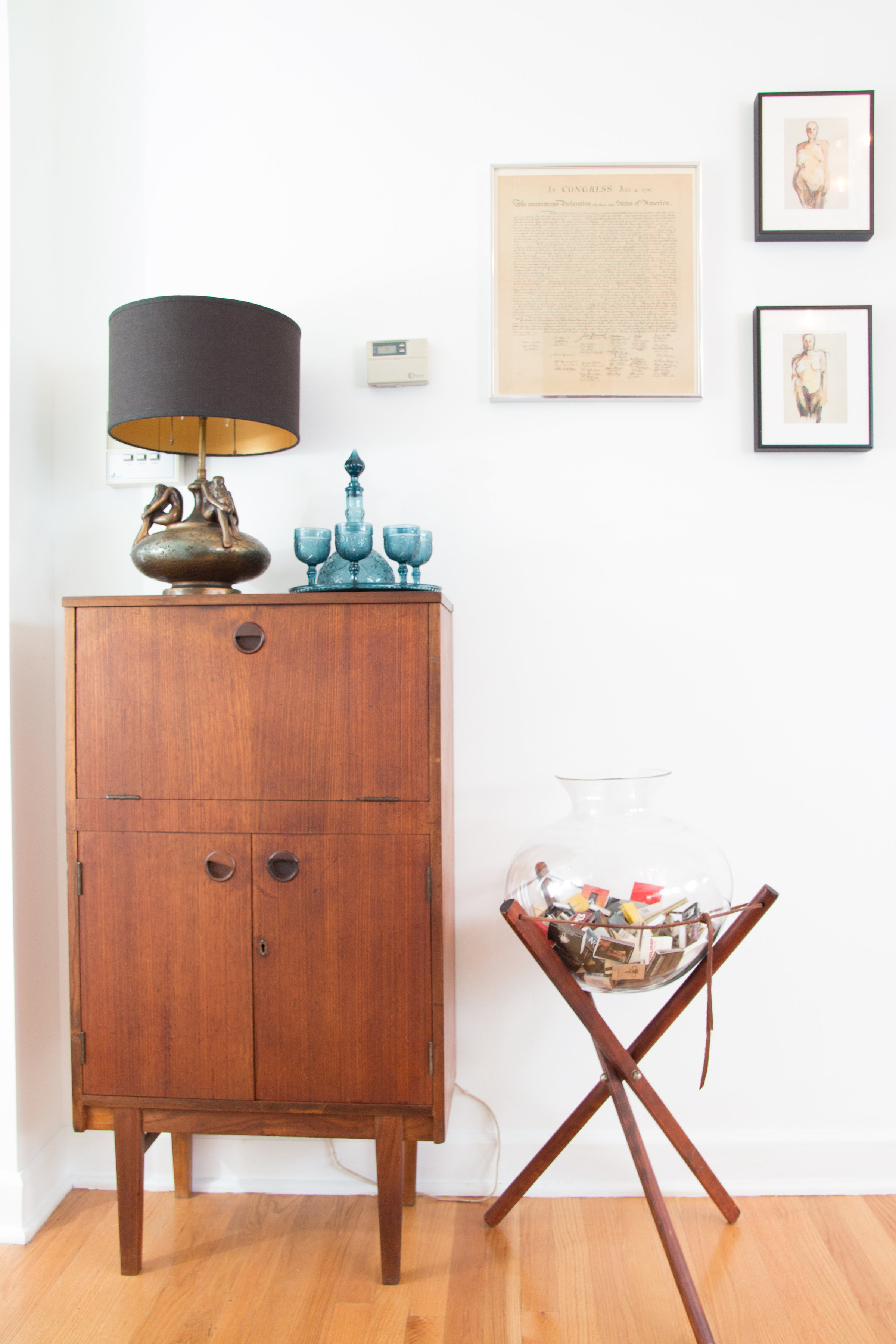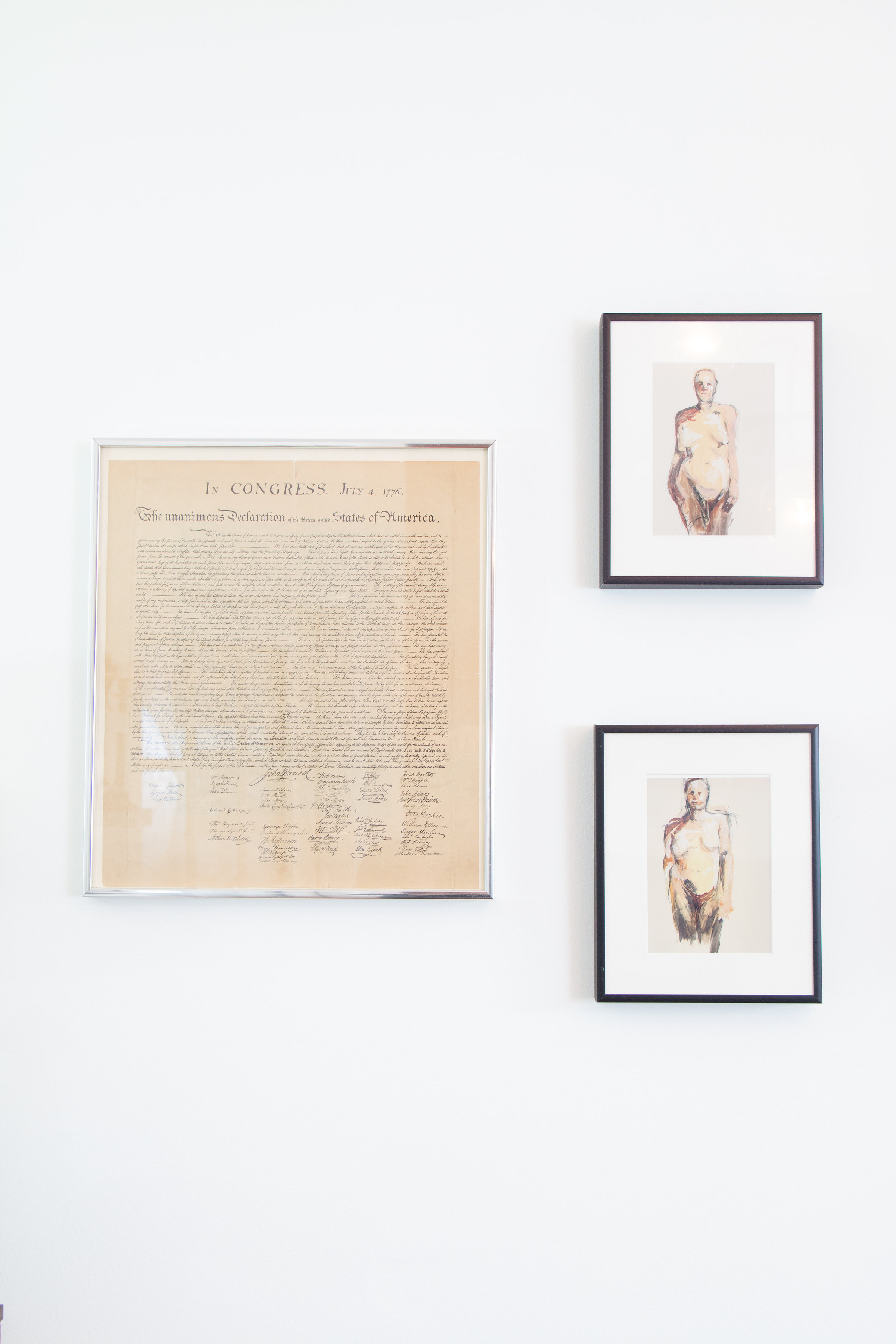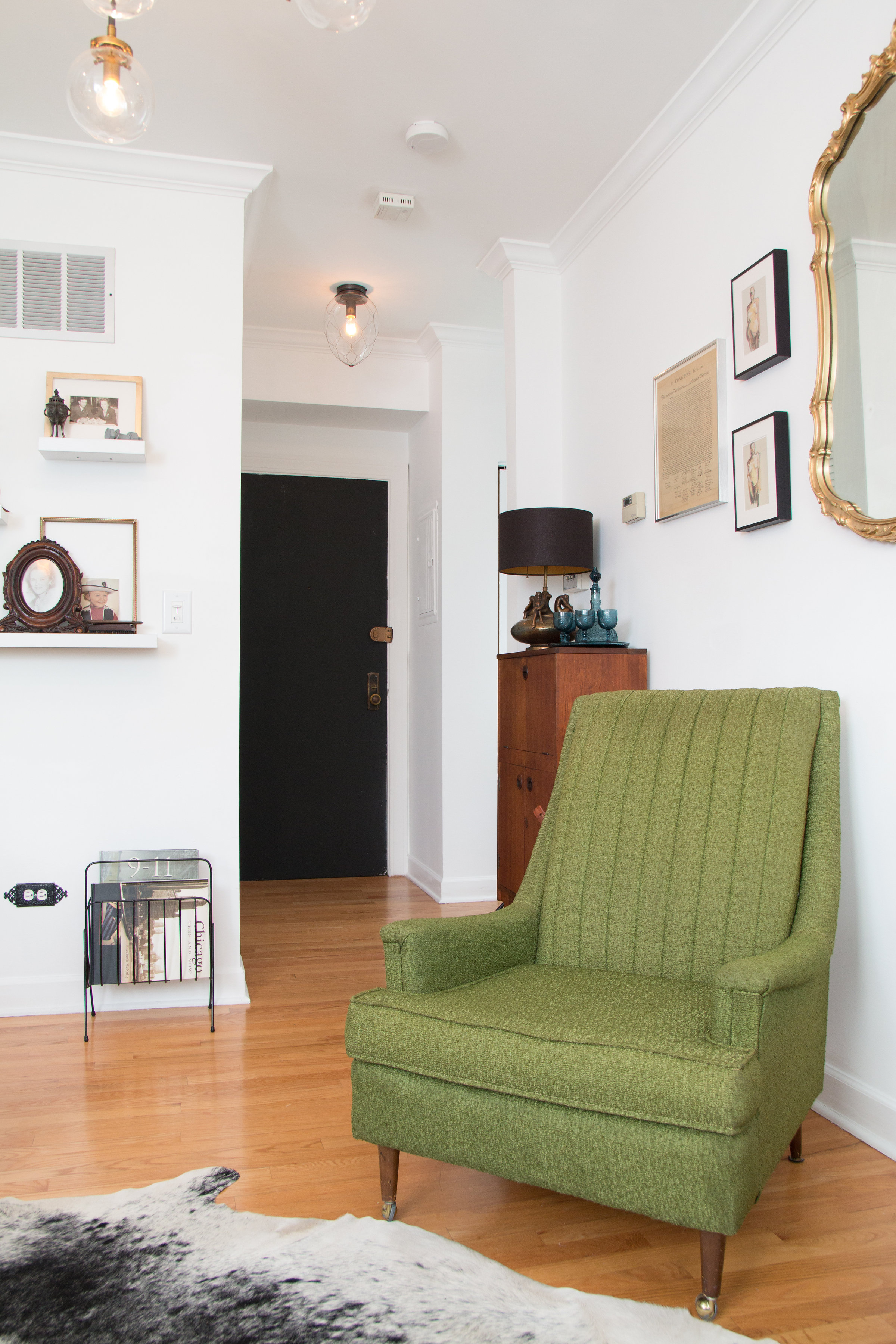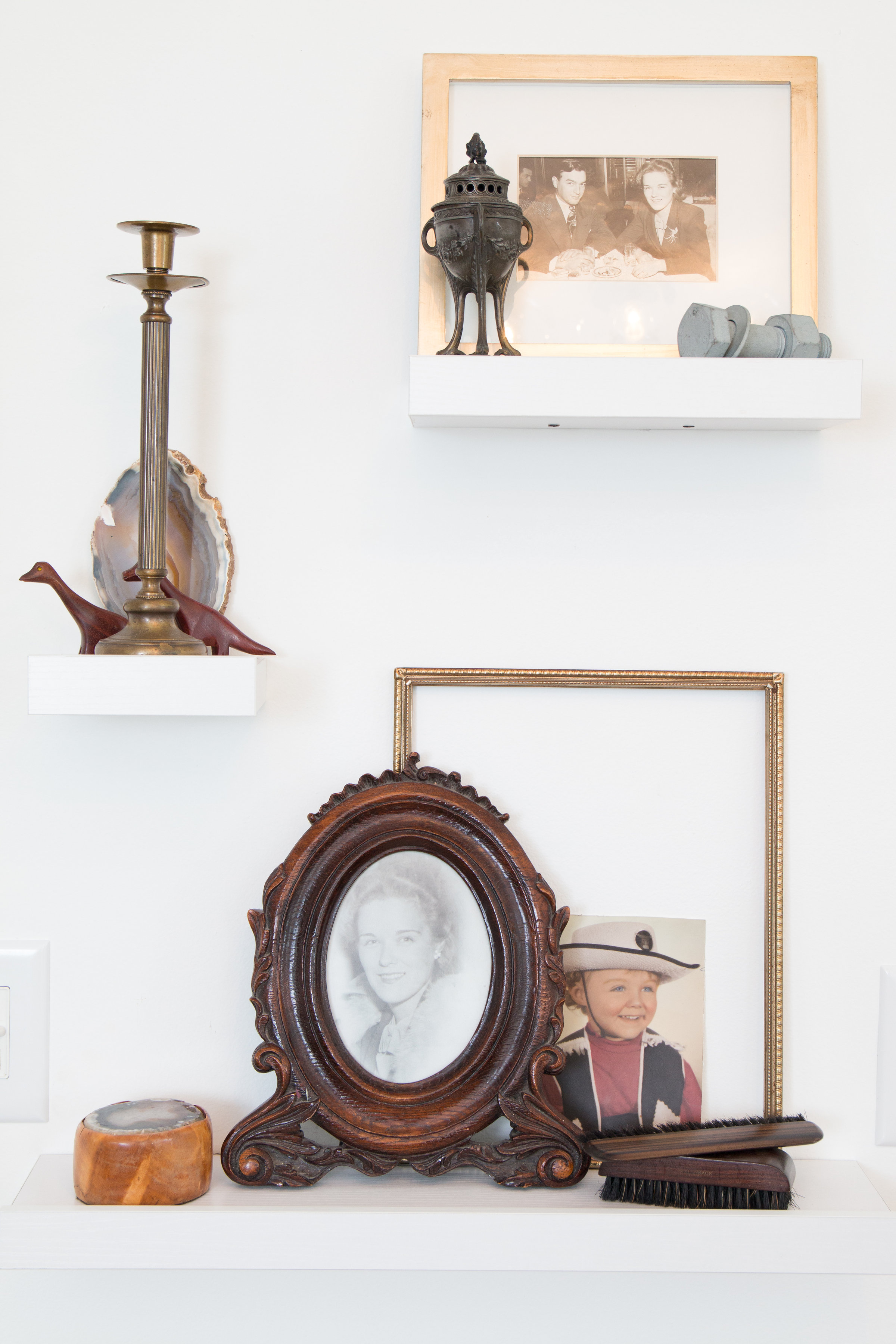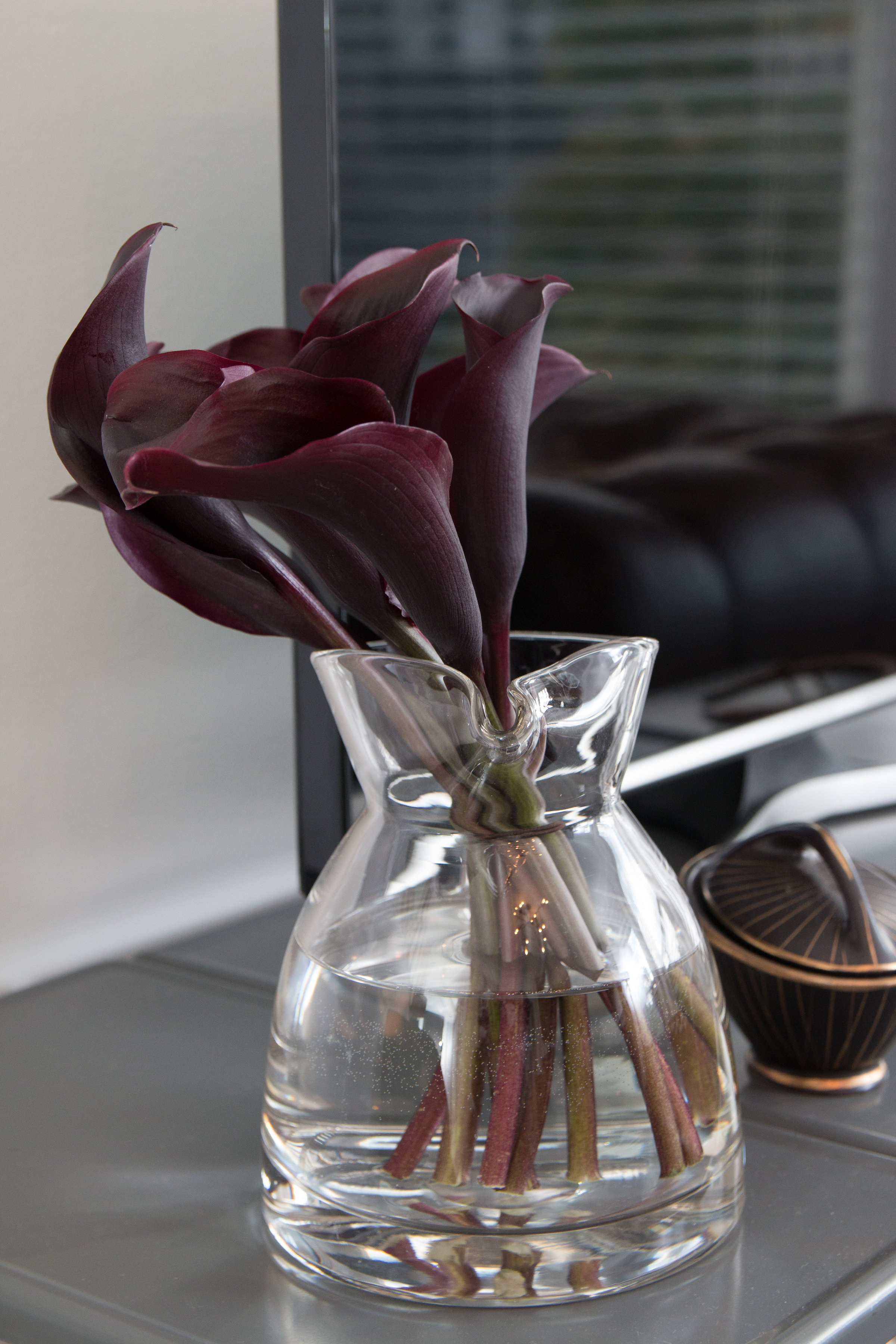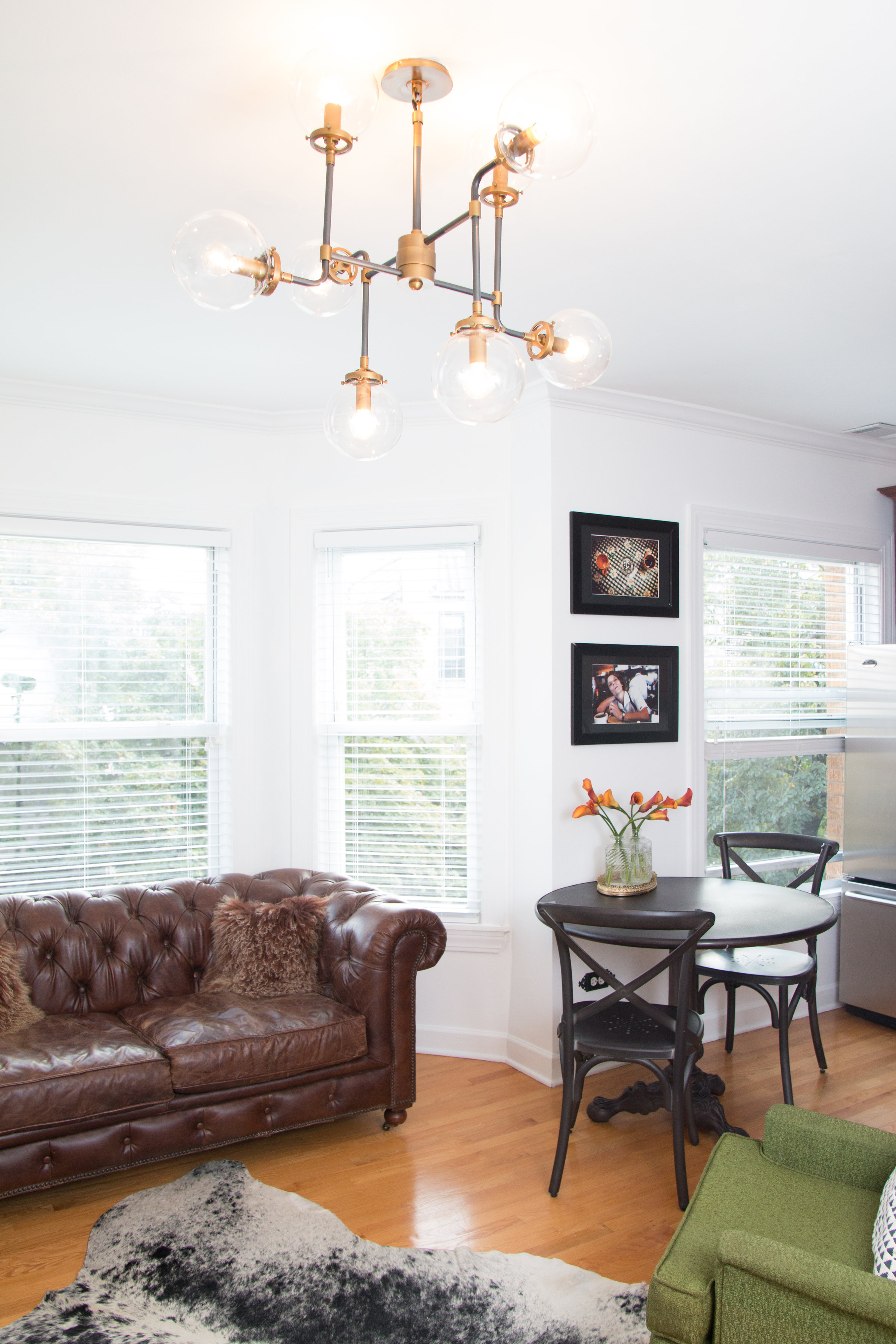 Biggest style challenge
Brent had a lot of unique vintage pieces, but also likes modern-minimalist style. I had to find a delicate balance of featuring his favorite items without it looking cluttered or too busy. The second biggest challenge was the painting. Previous renters had painted the bathroom layers red, blue, purple and then white. The layers of dark colors and lack of painting skills made it difficult to get it to a clean professional look. Once we finished fixing the paint in the bathroom it looked like a totally new bathroom!
Bathroom
Proudest style moment: Hand painting the pin stripes on this bathroom wall. I didn't want them to look like perfect stripes. I thought that hand painted look really complimented the naturally aged antiques while still a modern pattern with luxe colors.
Favorite room to style
This is a tough decision because I love them all of course. I'd have to say painting my first bedroom black was definitely the most rewarding. I wanted to create a luxe vintage story in this room. Adding the bold black modern backdrop really brightened up the grays and brown tones in this room, almost making the grays and browns act like a white would in brightening up a space. This room was all about the balance of color and cozy textures.
Bedroom
I hope you enjoyed this Tweaked Home Tour! Feel free to share your comments and questions below. Also, share with your friends if this style would inspire them too.